Welcome to Blue Hills Adult Education!
---
Blue Hills School District
Superintendent-Director – Jill M. Rossetti
57th District School Committee
SCHOOL YEAR 2021-2022
AVON Mr. Francis J. Fistori, Class of 1975
BRAINTREE Mr. Eric C. Erskine, Chair, Class of 1981
CANTON Mr. Aidan G. Maguire, Jr., Secretary, Class of 1979
DEDHAM Mr. Thomas R. Polito, Jr.
HOLBROOK Ms. Taryn M. Mohan, Class of 1996
MILTON Mr. Clinton Graham
NORWOOD Mr. Kevin L. Connolly, Vice Chair
RANDOLPH Ms. Yahaira Lopez
WESTWOOD Ms. Sheila C. Vazquez
---

Blue Hills Adults Education is where lives start to change and dreams begin to come true.
We teach ASE (Adult Secondary Education) and ESOL (English for speakers of other languages). Our students and graduates have gotten jobs, promotions, and better jobs. They've gone to college and launched careers. They support their families, participate in their children's education, and contribute to their communities.
You can too!
Join us, and become part of our friendly, supportive community. We'll help you feel at home, set goals, and dream. This is just the beginning!
All our courses are FREE!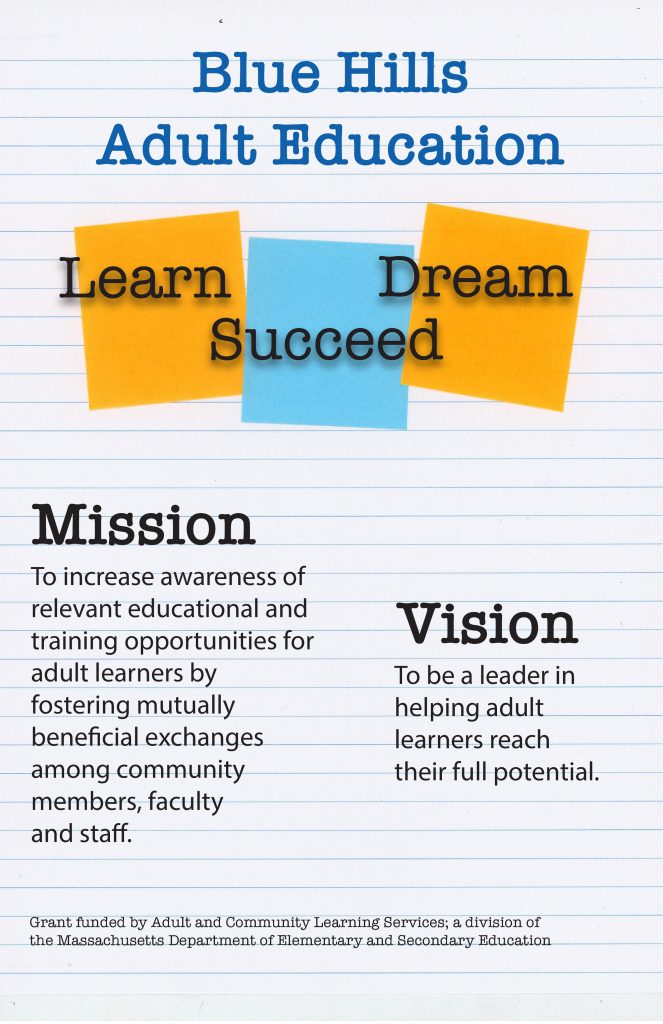 Why students like Blue Hills Adult Education:
" I feel more security when I speak and write in English. Every day is a new opportunity to speak well in English." ESOL Student, M.M.

"Before Coronavirus my difficulty was listening. For now it has changed." ESOL student, R.M.

"The program has opened up a new world for me." — Milton F

"Before I started the program, I thought that my educational goals were over. They helped me realize that dreams never die. The teachers helped me a lot. I wish for the program to stay for a long, long time, so they can help others." — Louis G