Blue Hills Adult Education Success Stories
Our students inspire us everyday!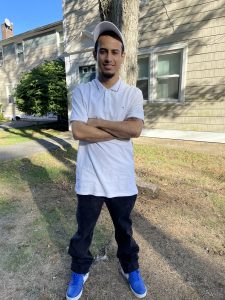 Joan
A great big congratulations to Joan Alvarez!! The smile on his face really tells so much about this incredible young man. He began classes in September, 2021 and by this past June, Joan was showing us his official high school equivalency diploma. This September, he visited our program to show us the certificate he just earned as a Medical Interpreter. We join his family and friends in being so proud of Joan!!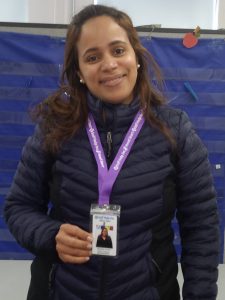 Missleia
"For me Blue Hills is a treasure and I want to share that treasure with everybody. I feel so happy to learn. Blue Hills has given me the confidence to speak with others and help the community. They have helped me to be employed, too."
"Now I have a voice."
-Missleia Soares
Missleia is from Brazil and has lived in the United States since 2003. As a wife, mother, student, and community advocate, her life is very busy.
MIssleia is a deeply committed person. She is committed to her family, her community, and to improving herself in the pursuit of helping others. Missleia knew that if she wanted to meet her commitments, she needed to learn English. When she learned about Blue Hills Adult Education from other Brazilians in her community, she enrolled as a student.
As she has worked toward improving her English at Blue Hills, Missleia has become very involved in her community. She has worked hard as a volunteer for Self Help, Inc. and for the town of Stoughton, and her efforts have not gone unnoticed. Self Help, Inc. recently selected her as their Stoughton representative, allowing her to her to explain to area families how Self Help programs work, and the town of Stoughton has hired her as a paid interpreter for the town. As a town interpreter, she works in the schools, the library, and at special town events, communicating information to Stoughton's Brazilian population.
Missleia is an inspiration to all of us, and Blue Hills is proud to be a part of her continued success.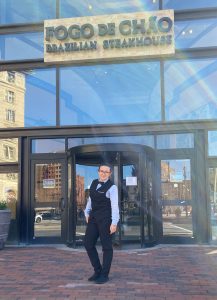 Bruna
I've been working as a server at Fogo de Chao for 8 months, my job is greeting the guests, explaining how everything works at the restaurant, set up the tables to give them the best experience there, also take drinks and dessert orders. Prepare coffees and coffee cocktails. It's a great company with opportunities for growth. The restaurant has many locations across the United States, also Brazil, Mexico, Puerto Rico, and Dubai. I'm really proud I got this job and that Blue Hills helped me build the confidence to achieve that. I remember when I did my test level and they put me at the highest one I thought it was a mistake because I didn't believe in myself but everyone at Blue Hills did. Now I'm fearless, even my Spanish is getting better and I never went to any classes.
"When you learn its ok to make mistakes, and say I don't know with an open heart. You can do everything if you want to and that's the most important lesson I learned Blue Hills, believe in myself!"